Considerations in Under the Hood Badge Design
Engine Cover Badges
Under-the-hood automotive badging is exposed to harsh elements including temperature extremes, grease, oil, dirt and grime. When designing the badge or emblem these things should be taken into consideration to create a part that looks as good after several years as the day the vehicle was purchased. Decorating processes, protective topcoats and attachment are key in the manufacturing of a part to meet these requirements.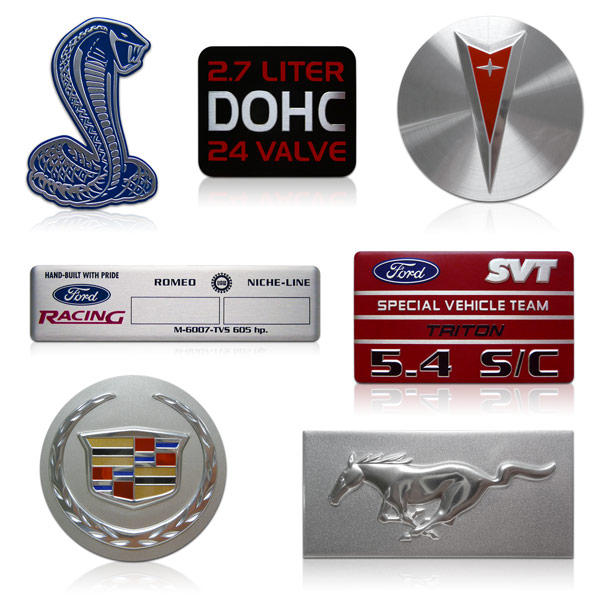 Decoration
Standard processes such as lithography and screen printing can be used by themselves or enhanced with mechanical finishes including brushing and spinning. The design can be as simple as one-dimensional printing or as complex as registering graphics for a multi-level emboss. It is important to stay away from processes which expose the aluminum such as diamond cut. Doming is not a good fit for under the hood requirements due to the heat of the engine.
Protective Coatings
Clear coats are applied by passing the aluminum sheets through a roll coater. Options with a range of glosses from low to high create the exact look your design demands. This step of the decoration process ensures resistance to the harsh enviroments the engine is exposed to.
Attachment
A secure bond between the badge and engine cover is needed. A robust option is an open cell foam adhesive. This type of adhesive facilitates application to the uneven surface of the engine while standing up to the temperature extremes as well as grease, oil and dirt that are likely to be found. Another option is to rivet the label to the engine.
Does your nameplate or label need to be able to stand up to harsh elements? Keep these considerations in mind and feel free to contact us for more discussion on your specific project.
Related Articles
Automotive Emblems, Nameplates and Badges - an overview
4 Examples of Durable Underhood Badges
Mustang GT Engine Cover Nameplate
Subscribe to Nameplate Blog