Environmental Management System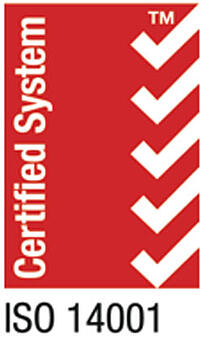 The natural beauty of the Midwest is as striking today as it was over 110 years ago when Northern Engraving was founded. We treasure this natural environment and promote conservation, recycling and efficient use of energy throughout our facilities to minimize the impact on the environment and to reduce operating costs.
Northern Engraving manufacturing facilities located at Sparta, Holmen and West Salem in Wisconsin along with the Spring Grove, Minnesota facility are registered to the international environmental standard, ISO 14001:2015. Our management system is based on areas of focus including environmental, quality and safety. This includes processes to identify and adhere to customer specific environmental requirements such as IMDS reporting and RoHS compliance.
Northern Engraving is committed to continual environmental improvement. Central to this commitment is maintaining a robust environmental management system following the ISO 14001 standard. This system gives our manufacturing sites the tools needed to analyze environmental impacts, set objectives and targets, develop supporting programs, review results and redirect efforts. Employee involvement at all levels is a key component in the ongoing success experienced by each facility.
Corporate registration is maintained through successful annual audits from the third-party registrar SAI Global.
Environmental Certification
ISO 14001 Certification
Environmental Policy Key Points
Continual Improvement

Meet Environmental Obligations

Reduce Waste
2020 Environmental Objectives - Results
Sparta, WI




Objective 1 : Reduce Facility Energy by Installing 1,000 LED Lamps

1,343 LED bulbs replaced fluorescent bulbs in light fixtures in the factory areas.

Objective 2 : Reduce Containment Level of Water Discharge TO POTW

Reduce number of high strength water discharge levels for BOD > 270mg/l and Total Suspended Solids (TSS) > 252mg/l to 50% of CY 2019.





Plant personnel performed investigations into potential causes and correlations leading to high strength discharge days. Possible solutions included better cleaning of washers, capture of solids from washer cleaning prior to drain, sanitation to prevent microbial growth in washers.





High strength BOD days: 2019 = 7; 2020 = 1. TSS: 2019 = 16; 202 = 9.




Reduce Total Phosphorus discharge to below the High Strength Discharge level of 3.67mg/l.




Cleaners and other materials were evaluated for Phosphorus levels, and eliminated where possible.




High strength discharge days: 2019 = 23; 2020 = 3.
Holmen

, WI

Objective 1 : Reduce Facility Energy Usage by Installing 650 LED Lamps

306 LED lamps were installed to replace fluorescent tubes in facility light fixtures. The program was put on hold mid-year, pending possible plant layout changes. Production was lower than previous years, and some departments were not running much of the time. Lights were turned off where possible when areas were unoccupied.

Objective 2 :

Achieve and Maintain 66% C1UG Center Panel Yield

This was continuation of effort for this program, with very difficult shaping sequence. Steps taken included radius changes in the dies, sharpening of dies, and automatic lubrication of parts, with a pre-set amount of lubricant being applied before process steps.




This objective was achieved, with average yield for year 2020 at 72.5%. This improved yield saves aluminum and other materials used, lessens waste energy and labor costs.

Objective 3 :

Promote Energy Conservation to Employees

Monthly posters of Energy Saving Tips (at work and at home) have been posted in employee areas.

West Salem

, WI




Objective 1 :

Reduce Total Suspended Solids (TSS) in Discharge Water

Investigations into sources of high TSS discharge did not pinpoint one cause. Steps taken to mitigate included: reconfiguring some piping to prevent buildup; reviewing PMs for cleaning settling pits and curbs under washers; repairing baffles in settling pit to improve settling; and investigating future improvements to settling pits.





In 2019, there were 39 instances with high TSS discharge; in 2020, there were 33.

Objective 2 :

Reduce Facility Water Use by Investigating Water Usage in Washers

Responsibility for startup and shutdown was verified and efficiency of washer startup vs. remaining on when not in use was discussed; better control of water temperature and flow. The importance of turning off washers when unused for an extended period of time was emphasized.




Production in the last 4 months of 2020 was much higher than previous months, running 7 days a week with mandatory overtime, while water usage rose only slightly during that timeframe. It was determined, for better monitoring, to install water meters on the washers, which was being pursued as of the end of the year. Overall water usage for 2020 was 15% less than 2019.

Spring Grove, MN

Objective 1 : Reduce Facility Water Usage. Evaluate Molding Machine Water Usage.

Molding machines were moved out of Spring Grove in May, before much data had been collected.

Objective 2 : Promote Energy Conservation to Employees

Monthly posters of Energy Saving Tips (at work and at home) have been posted in employee areas.



2021 Environmental Objectives and Targets
Sparta, WI

Reduce Facility Energy by Installing 1,000 LED lamps

Communicate Environmental Activities: Considering Objectives, Improvements, Ideas, Opportunities, etc. Post information monthly using TV monitors, bulletin boards or EI meetings.

Collect Harder to Recycle Consumer Plastic Film and Bags, to Earn a Trex Park Bench. Collect 500lbs from April 5 to October 5, 2021.

Holmen, WI

Achieve and Maintain 75% Minimum C1UG Center Panel Yield

Communicate Environmental Awareness Information to Employees Monthly
West Salem, WI

Reduce total Suspended Solids in Water Discharge and Reduce Water Usage

Reduce Electrical Usage - Replace 500 lights with LEDs

Spring Grove, MN

Reduce Facility Water Usage

Communicate Environmental Awareness Information to Employees Monthly