Roll Coating
Roll coating is the workhorse of aluminum decoration for automotive trim, appliance panels and nameplates. The process is used early in the decoration process to apply a primer before any litho printing or screen printing is applied. Overall color can also be applied with the roll coat process. Often the final step in the decorative process on metal is to apply a protective topcoat using the roll coating process.
Definition: Roll coating is the process of applying a coating to a flat substrate by passing it between rollers. Coating is applied by one auxiliary roller onto an application roll, which rolls across the conveyed flat substrate.
Roll coating is divided into two types: direct and reverse roll coating. In direct roll coating, the applicator roll rotates in the same direction as the substrate moves. In reverse roll coating, the applicator roll rotates in the opposite direction of the substrate.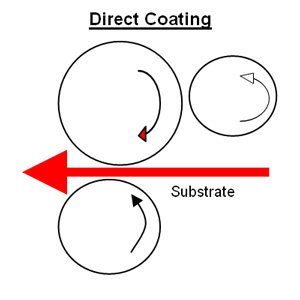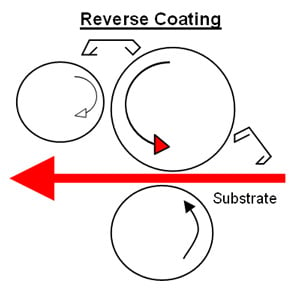 Alternative names for Roll Coating are: Topcoat, Coating, Primer, Top Coating, and Coil Coating.
Roll Coating Advantages
•consistency in film thickness across the substrate, yielding high quality finish
•speed
•ability to run higher viscosity materials
•100% transfer efficiency
Roll Coating Options
•color
opaque or transparent
•gloss
high, medium or low
•substrates
metal
aluminum, steel, brass
plastic
abs, polycarbonate
•processes which can be combined with roll coat
screening (including textures or puff inks)
offset lithography
mechanical finishes (metal substrates)
•lensing
•diamond cut (metal substrates)
Roll Coating Considerations
•stock must be flat
•each coating must be cured before next process
•coatings are floods of an ink, they cannot be applied selectively
Alternative Processes
•Opaque and transparent colors: lithography, screening
•Topcoats: screening
Technical Information
•generally a faster process than screen printing, spray or lithography
•roll coating is limited to flatwork
•extremely film thickness sensitive
•viscosity dependent
•topcoat determines gloss level and provides protective qualities
•standard coating thickness:
Direct Coating - .05 to .15 mils
Reverse Coating - .2 to .6 mils
•Northern Engraving's topcoat chemistry's are generally polyurethanes, acrylics or epoxies
Additional questions and answers focusing on nameplate, label and badge design and manufacturing can be found on our Nameplate FAQ page.
Subscribe to Nameplate Blog