Simulated Antique Lacquer on Aluminum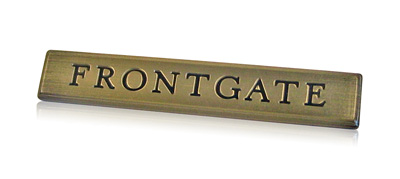 This aluminum nameplate is printed to simulate an antique lacquer finish on brass. Artwork was custom created to duplicate the slight darkening around the edge of a lacquered nameplate. A transparent tint of gold printed on brushed aluminum gives the appearance of a brass substrate. Embossing is used to give depth to the nameplate. The recessed logo is accented with printed color.
Aluminum is a versatile substrate which can be decorated to simulate brass, stainless steel, copper and other metals. It is a cost effective option which is light weight and corrosion resistant.
What applications come to mind for an antique brass nameplate? I can see the warm metal finish used on furniture or cabinet labels. How would you use this idea to create a unique nameplate for your brand?
Subscribe to Nameplate Blog