Integration of Aluminum Nameplate with Decorative Trim
Nameplate Integration with Aluminum Trim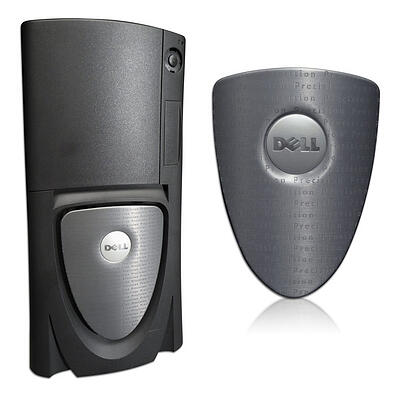 Aluminum trim can be used to decorate and add interest to consumer products. Integrating the nameplate into the trim is an economical and efficient use of the material. The combination makes the most of manufacturing efficiency and keeps tooling operations and investment as minimal as possible.
For the functional computer tower trim shown here, the customer called out a raised character custom pattern design using the model name repeating across the background which coordinates with the rest of the housing. Contoured tooling with debossed bright aluminum graphics makes the nameplate appear like a separate inlaid component. The aluminum wraps around a plastic backing which allows snap-in attachment to the housing. The result is a recognizable trim piece for the brand with high perceived value.
Do you have a project to review for potential to combine functionality of a nameplate with mating aluminum trim? Let's talk!
Related Posts
Nameplate and Trim as One Piece
Embossed Aluminum Overlay for Boat
6 Options for Integrating Nameplate into Aluminum Trim

Subscribe to Nameplate Blog