Six Options for Integrating a Nameplate into Trim
Putting it all Together
The Nameplate Blog focuses on options in creating nameplates and labels. I would like to challenge you to think beyond creating only a nameplate to using aluminum or plastic to create a decorative trim piece which integrates the nameplate into the design.
Aluminum trim increases the perceived value or quality of consumer products, appliances and automobile interiors. Metal and plastic overlays serve a functional and decorative purpose typically integrating graphics on an accent finish.
Combining your nameplate or brand into aluminum trim and graphic overlays is a cost effective option which minimizes assembly and number of parts. This article explores some of the options available to you when integrating a nameplate into a larger trim piece.
Options
Print / Selective Decoration: mechanical finishes, color and gloss applied selectively
Emboss Letters: individual letters or logos embossed and selectively decorated
Emboss Border: square, oval, circle or custom shape defined with an embossed border
Emboss Pad: entire nameplate embossed to stand out from trim
Doming: selective lens applied to highlight a logo
Plastic: many of the options available on metal can used on plastic trim
Print / Selective Decoration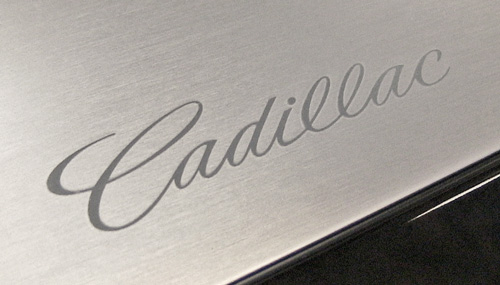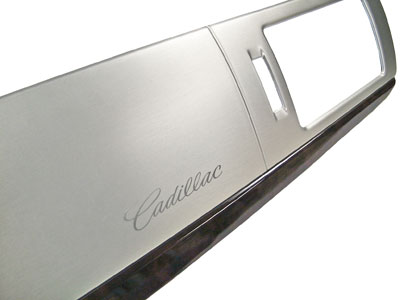 Selectively decorating aluminum creates a contrast between your logo and the background finish. Bright aluminum graphics are often used. Other options include brushing, engine stripe or selective color. The interior trim for the Cadillac Escalade uses selective decoration to incorporate the Cadillac logo into the passenger dash panel (instrument panel) trim.
Emboss Letters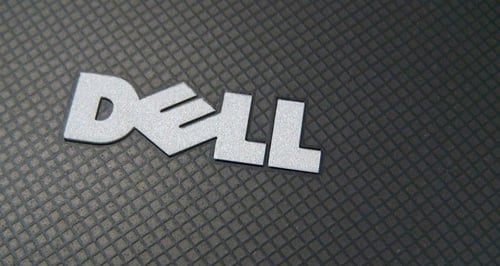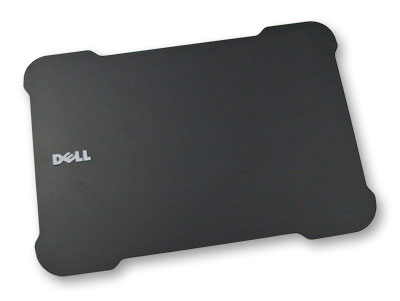 Combining selective decoration with embossed letters further enhances the illusion of a separate nameplate applied to the trim. Tight registration between printing and embossing is key to the success of this option. This option is illustrated in the Dell Lattitude trim which features an embossed metallic silver logo against a screen printed pattern in the background.
Emboss Border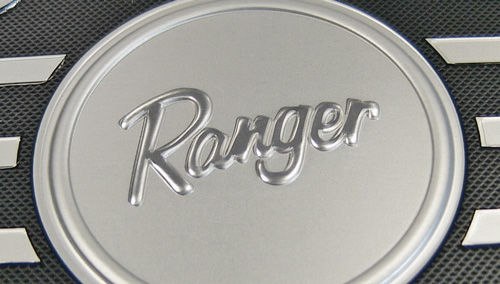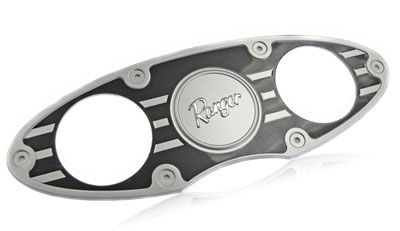 Embossing a border around your logo gives gives you additional area to decorate selectively. The larger area can be used to draw more attention or focus to your brand. This option is also a good fit when the logo involves small or intricate details. Ranger boats places their logo front and center on their overlay.
Emboss Pad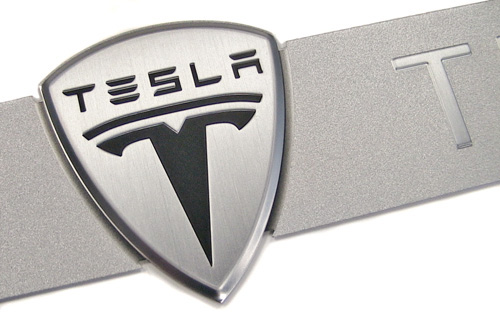 Embossing a pad is similar to embossing a border. Instead, the entire logo with its background shape is embossed as a pad. Graphics can be embossed or debossed (recessed) on the pad. Many logos already have a background shape (circle, oval etc.) built into their design. The Tesla Motors nameplate features an embossed logo combined with a printed halftone to further give the illusion of being two separate parts.
Doming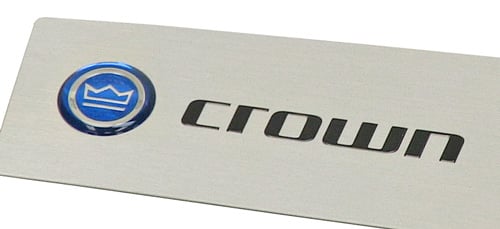 When doming is applied selectively to an overlay, it creates an attention getting look. A dam is embossed to control and stop liquid polyurethane when it is applied to the trim. The dome is cured into a crystal cure lens as shown on the aluminum control panel manufactured for Crown.
Plastic

All of the options for incorporating nameplates into trim are also available on plastic substrates. The Whirlpool graphic overlay is one example incorporating an embossed pad (the Whirlpool oval) into an overlay. The Whirlpool logo is printed to register to the embossing.
What applications come to mind for a trim piece which incorporates a nameplate into the design? Are there other examples that come to mind?
Request samples of trim, overlays and nameplates to begin putting it all together for your next project.
Subscribe to Nameplate Blog