Embossed Metal Panel
Ranger boats designed this aluminum overlay to stand out using a multi-level emboss to add dimension and detail. The Ranger logo is integrated into the panel giving the illusion of being a separate nameplate attached to the overlay. Combining nameplates into metal trim maximizes impact while minimizing the number of parts and cost. The heavy duty overlay is manufactured on .060" thick aluminum using inks and coatings that will stand up to a marine environment. The eye-catching design uses matte and bright aluminum borders and accents to highlight a printed background pattern. The pattern is a precise geometric finish using a low gloss texture contrasted against a high gloss black base.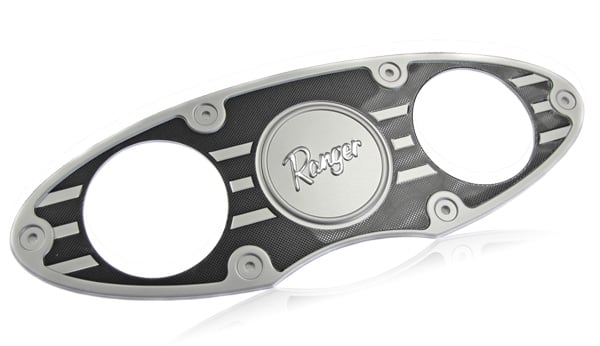 Now that the tool is built, how would you change the look of this overlay? What patterns would you incorporate into the design for a refresh or update?
Subscribe to Nameplate Blog