Metal Nameplate Stamping FAQ
Stamping is a broad manufacturing term used to cover blanking, embossing, forming and punching of sheet metal for nameplates and labels. Graphic options range from a simple emboss or deboss to a multi-level emboss. Our engineers can work with you to answer questions specific to your design. Some of the most frequently asked questions regarding tooling for metal nameplates are listed below.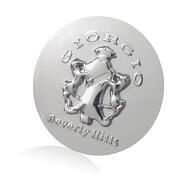 Q) What options do I have for embossing my logo in aluminum?
A) We offer etch emboss and cut emboss tools. Etch emboss tools are a more cost effective option with an emboss height of .006". The depth of emboss for a cut emboss tool is dependent on the thickness of the substrate and ranges from .012"-.032".
Q) What is a rolled edge?
A) Rolling the outside edge of a nameplate turns the edge down so the silver edge is minimized.
Q) How can I hide the raw edge of aluminum on my nameplate?
A) There are several options available for hiding the exposed silver edge of a nameplate. We will work with you defining a solution that meets your needs in the most cost effective manner available.
Q) Do you offer nameplate prototype tooling?
A) Yes. Depending on the complexity of your part and your needs (visual review or fit and function) we have several options ranging from hand filing to prototype tooling to pre-production tooling.
Q) What is your standard nameplate tool timing on metal?
A) Standard tooling lead time is four to five weeks for blanking dies and five to six weeks for emboss tools. This may vary slightly depending on complexity of part, availability of materials and work load. We understand there are cases where we need to rush an order - we will do our utmost to meet those requests.
Q) Do you offer stock dies for metal substrates?
A) Yes. Stock dies are a cost effective option for your nameplate. We can recommend options available to you.
Subscribe to Nameplate Blog