Four Ways to Hide the Raw Edge on an Aluminum Nameplate
A common question that arises during the design phase of a nameplate is: how can I hide the raw edge of aluminum on my nameplate? This is especially a concern when the nameplate is a very dark color and is being applied to a dark colored substrate. In this case, the exposed silver edge of the aluminum is objectionable. There are several options to consider:
Create a recess: a recess in the product allows the nameplate to be set in, hiding the raw silver edge of aluminum
Form the nameplate: the edge of the nameplate can be formed creating a dimensional nameplate with the edge hidden
Add a silver border: a silver border around the edge of the nameplate will help disguise the silver edge
Roll the edge: a slight rolled edge on the outside of the nameplate turns the edge back so the silver edge is minimized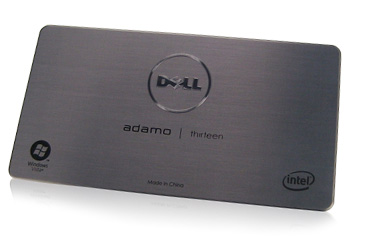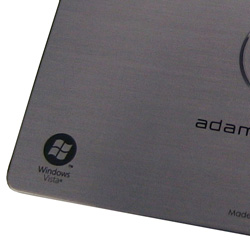 Hiding the aluminum colored edge of the nameplate was a challenge during the design of the Dell Adamo nameplate. The solution involved a combination of approaches. First, there was a slight recess in the product where the nameplate was placed. However, space was limited and the depth of the recess was limited. The next step involved putting a slight rolled edge on the part. The silver edge was turned back slightly to help minimize the visible aluminum edge. A third step involved making the overall transparent tint of color slightly lighter. The original design called for a near black tint of color. The laptop is also brushed black. The two black areas highlighted any silver edge. The final design direction used a dark grey tint of color for the nameplate. This helped visually to minimize the appearance of silver.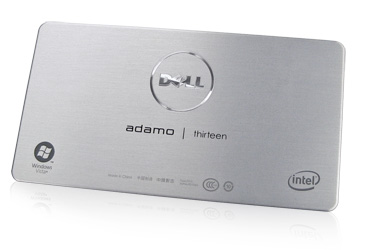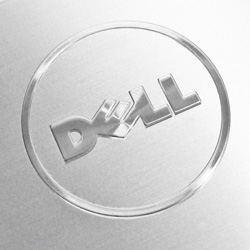 A second version of the aluminum nameplate was created using the same tools. This was an economical option for differentiating the product in the marketplace. This version featured the same mechanical processes for the decoration of the nameplate. The Dell logo is highlighted with an emboss and spin. The spin is a circular brush which adds visual movement to the logo. The background is brushed. Both nameplates created a premium look for the brand.
Have more questions about your nameplate design? We can help. Let's talk!
Subscribe to Nameplate Blog