Callaway Watermark Nameplates
A Holographic Effect on Aluminum
Callaway designers push the limits of decorative processes to achieve the high performance look for their aluminum nameplates. Northern Engraving designers worked with Callaway design to bring their vision to reality on this series of Callaway X16 medallions. The concept was to integrate an X into the medallion as a watermark. The effect needed to be subtle so the watermark would not compete with the other graphics. Watermark effects were explored through prototypes on aluminum.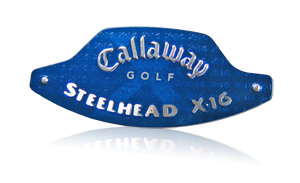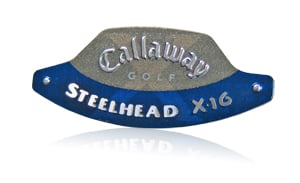 The final nameplate features a watermark that comes and goes depending on your angle of viewing. It is layered with a custom texture featuring X-16 graphics repeating in a pattern. The watermark is successfully translated across two nameplates for different product lines. Graphics are embossed bright aluminum and diamond cut aluminum creating a two tone silver effect on the nameplate graphics. A simulated rivet detail completes the nameplate.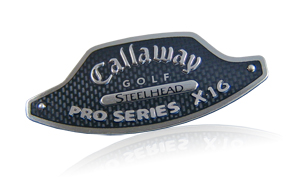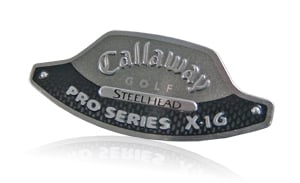 Additional medallions featuring a carbon fiber finish were created to further differentiate additional product lines. The carbon fiber finish has the same holographic effect the watermark does creating movement in the nameplate. The decorative options available on aluminum allowed Callaway designers to create distinct looks for this series of golf medallions.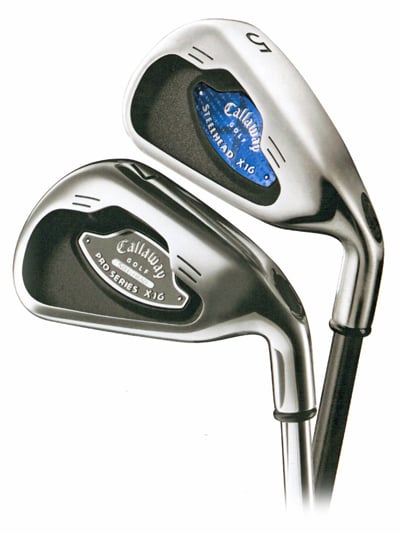 Subscribe to Nameplate Blog