Finish Options to Carry Decoration Across Family Parts
Mating parts using the same finish structure are feasible in any industry, from cosmetic and computers to medical equipment and automotive interiors. The XV1 Oroscoptic dental loupe and headlight uses a subtle black dot pattern on black background carried across both sides of the bow as well as serial number label. The result is a set of family parts which work together to complement and enhance the brand across different product base colors.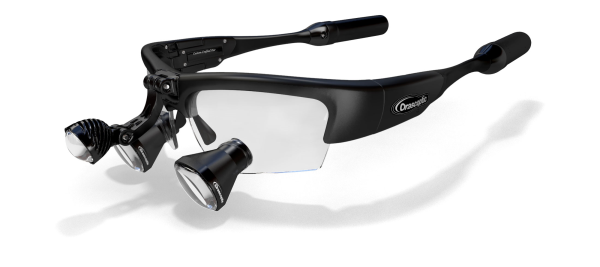 A library of thousands of pattern and finish options is at your disposal. Browse through the gallery to find a structure that fits your application. Any of the patterns can be customized in scale or color. Many of them can also be translated onto plastic substrates like polycarbonate or polyester to give even more options if your product requires an overlay with windows or any backlit elements.
Once a finish is selected, take into consideration the shape and size of the component part. Emboss or deboss elements and any forming will affect the final look as the substrate is manipulated and stretched during tooling. Registration for printed, embossed or debossed graphics is accomplished through print development.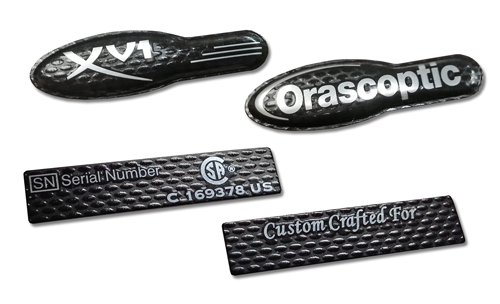 Consistency in decoration between component parts of a product or product line is an important consideration in the overall design. This helps to reinforce the look across the final product. Where do you begin? Many times it starts with the finish.
Is there opportunity for your next project to carry decoration across multiple parts? Where will you use this?
Related Articles
DELL Latitude E6400 XFR Trim - Metal and Plastic
Mustang Shelby Interior Trim
Volvo C-30 Interior Trim Case Study
Ranger Boats Aluminum Dash Trim Case Study


Full product image credit Orascoptic
Subscribe to Nameplate Blog