Nameplate Archive | Aluminum CD Packaging


The options for packaging a product are endless; however adding an aluminum insert to this CD set gives the opportunity for the product to stand out among all others. Not only is the decoration attractive, but it boasts durability and uniqueness. Through the four-color process the desired design is achieved.
Process color uses four colors: cyan, magenta, yellow and black to create multiple colors. Some typical uses for the four color process include: multi-color graphics, faux finishes, illustrations, and photos. Process color provides a variety of possibilities for building your design and brand image.

Other examples of process color:
Four Options in Four Color Process Nameplates
10 Examples of Multi-Color Logos
Aluminum Lid for CD Package
Aluminum Inserts
Miles Davis CD Spine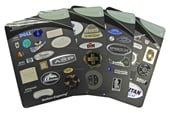 Samples of nameplates are a great way to explore and better understand the options available to you in designing a nameplate. Northern engraving offers a Nameplate Materials and Processes Guide with numerous samples on metal and plastic substrates to assist you in the process.
Subscribe to Nameplate Blog