Nameplate Archive: Miles Davis Metal CD Spine
Steel, Aluminum and Brass - CD Packaging
Custom matching a patina finish for CD packaging in the Mile Davis metal spine series meant working closely with the packaging designer to exactly duplicate the worn and imperfect surface on the trumpet used by Miles Davis.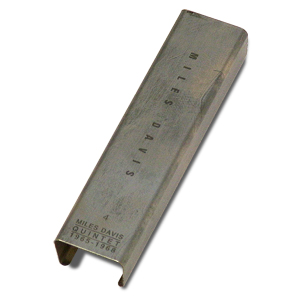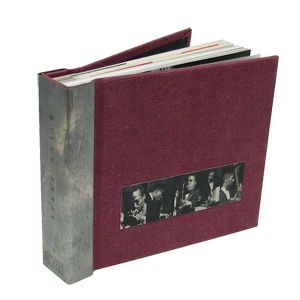 Once the trumpet arrived in our studio, our designers worked with litho press operators creating the patina look on metal. Steel was used on the original version of the metal spine to add weight to the final package. A later version matched the patina surface on aluminum. The graphics for both versions were coined into the metal for an authentic stamped metal effect.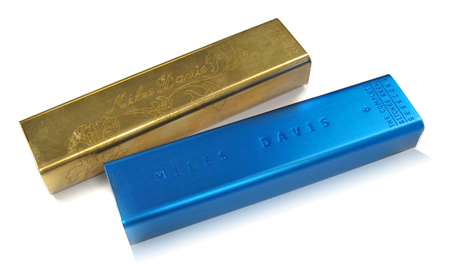 Additional metal spines in the series were created using the same tooling. An anodized blue metal look was achieved by coating a transparent tint of color on brushed steel. A low gloss topcoat protects the surface and adds to the anodized effect. The graphics feature a tone on tone effect created by litho printing a slightly darker blue tint and coining. A third metal spine was manufactured using brass. Simulated brass could be achieved on aluminum. However, this would leave a visible silver edge on the spine on the completed CD packaging. The final flashy brass cd spine is akin to a shiny trumpet with detailed graphics coined into the surface of the metal.
Metal labels, plaques or spines are used effectively in packaging to draw attention to the product. They can be used to create a looks that are flashy, elegant or handcrafted.
How would you push the boundaries of metal substrates incorporating them into your package design?
Subscribe to Nameplate Blog