Visual Dimension on Aluminum Nameplates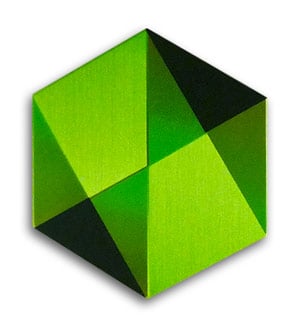 A common request with aluminum nameplates to make the logo come to life and draw attention to the brand. One way to do this is with decorating processes to create a three-dimensional look. Layers of brushed aluminum can be combined with printed colors and halftones to achieve visual dimension.
This type of decoration is what was used to create this eye-catching hexagon-shaped logo. A transparent green tint is used for the background and enhanced with black and black tones to create the highs and lows necesssary for the look of multiple levels. When the nameplate is assembled to the product housing it definitely draws attention to the brand.

image source: http://nexgenstorage.com/
While this example uses brushed aluminum to achieve the dimension, other options exist including selective gloss levels and screened textures on aluminum. The possibilities are as wide open as your imagination to create a nameplate to enhance your brand identity.
Related Posts
Halftones add to the Illusion of Depth and Dimension for Aluminum Trim
Multi-Level Dimension for Nameplates without Complex Tooling
5 Options to Achieve Dimension for Aluminum Nameplates

Still have questions about adding dimension to your nameplate? Let's talk!
Subscribe to Nameplate Blog