5 Options to Achieve Dimension for Aluminum Nameplates
Dimension without Additional Tooling
A common question that is asked with many designs is how can we make this nameplate so that it pops and shows dimension without adding tooling expense? Indeed the addtional operations to incorporate an embossed graphic, a beveled edge or a raised border can be a tooling cost driver. What do you do when you need to keep tooling investment at a minimum but you want a premium 3-D look? Don't worry - there are decorating options and processes that can get you dimension while keeping your costs at a minimum.
Options
1 - Half tones printed over multi-direction or selective brushing on aluminum
Effective for a bevel look on borders and useful to make graphics appear to pop up from the surface of the part.

2 - Low gloss or metallic background with high gloss graphics on aluminum
Effective for visual depth and dimensional contrast between graphics and background decoration. This draws attention to a logo or select graphics.

3 - Selective undercoats of color on aluminum
Effective for a 3-D effect so that specific graphics appear to be on a different visual plane from the background of the part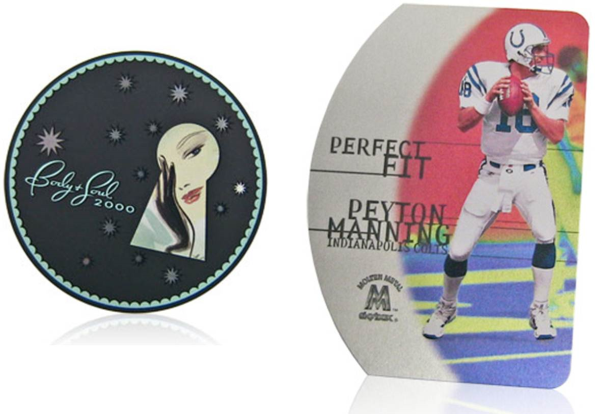 4 - Deep etch provides the look of debossed graphics on aluminum
Effective when a two-tone look is desired and no forming is required for the part.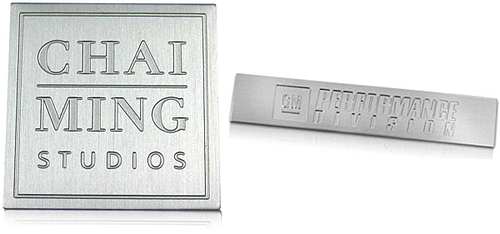 5 - Screened texture provides visual and tactile dimension for aluminum nameplates
Effective option for accent areas and to create illusion of raised borders or graphics.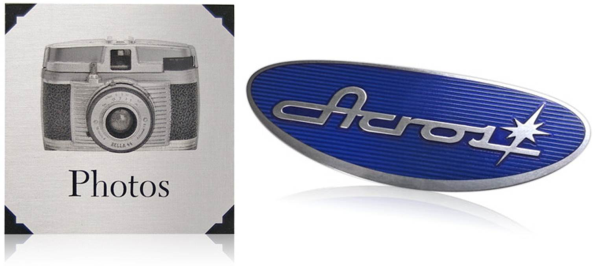 Cost Effective
Involving Northern Engraving early in the nameplate design process allows us to work with you to recommend options within your budget that meet your product branding needs. By using decorating processes to create the visual dimension for your nameplates, your initial tooling investment can be kept at the lowest possible dollar. The examples above outline cost effective options to achieve dimension and depth in your aluminum nameplate or label design. Each of these are achieved during the decoration of the aluminum with standard printing or screening processes. There will be artwork setup costs associated the first time that the jobs are ordered, but then your repeat orders are ready to go. Quality checks along the production line are in place to ensure your design intent and expectations are met before shipment takes place. All of these should give you peace of mind that when your order is placed you will receive good parts at your designated location and in turn, your end product will have attractive identification for your name, your brand and your image.
Where can you use decorating processes to add dimension to your aluminum nameplates?
Subscribe to Nameplate Blog