Aluminum Over-Mold Process for Your Nameplate
The over-mold process unifies aluminum and plastic in a seamless manner, providing a unique way to identify your brand.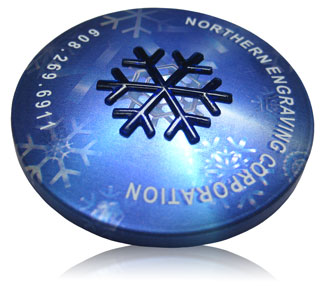 First, the aluminum portion is created to the desired specifications. Any of the decorative processes including mechanical finishes, printing and etching can be used on the aluminum trim. Next, the aluminum part is placed into a mold in which the plastic will take its form.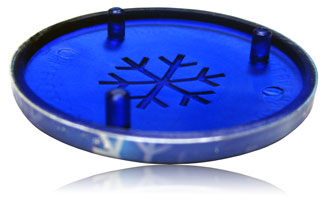 From the back of the nameplate, plastic resin material is injected into the mold. The resin is pushed through the aluminum, taking on the detail of the mold over the top of the aluminum. Hence the "over-mold" or "through-mold" name for the process. This is an enhancement to the Aluminum In-mold process which provides durability and robust bond between the materials.
Hard or soft plastic can be used, depending on your desired end product. In addition, the plastic can have a smooth or textured surface, offering an extension to the overall design.
Related Articles
Through Mold Graphics on Hummer Sill Plate
Aluminum In-mold Key Fob
Callaway X-20 Golf Club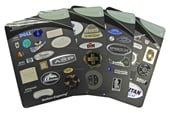 Samples of nameplates are a great way to explore and better understand the options available to you in designing a nameplate. Northern engraving offers a Nameplate Materials and Processes Guide with numerous samples on metal and plastic substrates to assist you in the process.
Subscribe to Nameplate Blog