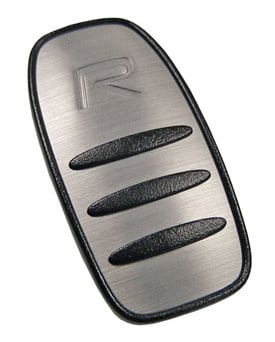 The Volvo key fob integrates the same brushed metal finish used on the aluminum interior trim into its design. The aluminum in-mold process is used to create a decorative piece combining metal and plastic into one component. The raised plastic details are created using a through mold process.
Mixed Material Effect
The through mold process creates dimensional plastic details or graphics which can be smooth or textured. The key fob is a perfect application for this process. The through mold accents add a dimensional tactile component to the key fob. Hard or soft plastic can be used in the through mold process to meet your application needs. The full range of decorative process including mechanical finishes, printing and etching can be used on the aluminum trim. The trim is decorated in the flat sheet, formed and inserted in the mold. The resin is injected into the mold permanently bonding the metal and plastic together.
What applications can you see for the aluminum in-mold process with through mold accents or graphics?
Subscribe to Nameplate Blog