When do you Need Etch and Fill Nameplates?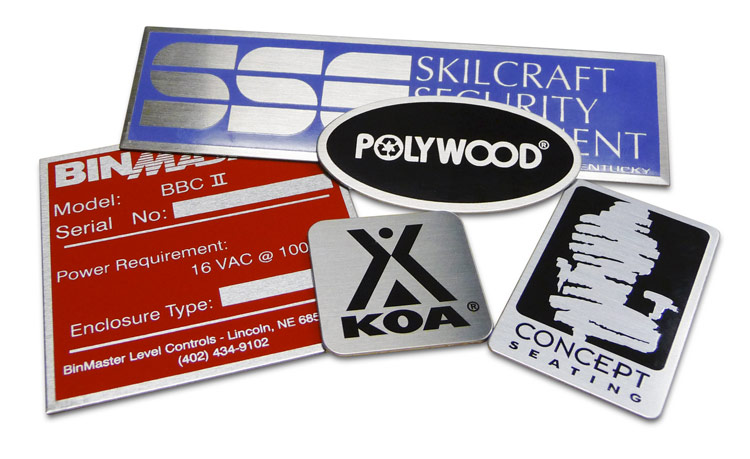 When designing a metal nameplate, one of the questions that is considered is the environment your nameplate will be used in. This determines what protective topcoats we will use in the aluminum decoration process. If your product is going to need identification to stand up to the test of time, chemical abuse or exposure to exterior environments, you may want to review for etched and filled graphics. Let's walk through this process for etch and fill on metal nameplates.

Etch and Fill Metal Nameplates
The etching process tends to be a requirement for exterior application or when there is expectation that the product will be exposed to chemicals or harsh environments. Rating and serial tags use the etch and fill process because of its timeless nature. Furniture emblems are another product which has shown a growing need for etched graphics because they stand up to the test of time, chemical abuse and weather leaving the etched copy legible.
Etch and Fill Process
Etching is a chemical process availabe on aluminum and stainless steel. It uses chemicals to cut into the surface of metal creating graphics or a design. The etch and fill process starts with a screen printed chemical resist on the front of the metal. Everything covered by the resist will be protected from the chemicals during the etching process. The fill process involves depositing an opaque color into the etched areas of the metal. The resulting decoration ensures a readable part for the life of the metal substrate.
Etching metal can add to the process time needed to produce parts. For this reason your lead time may be affected on purchase orders and should be reviewed with your Customer Service Representative so your requested ship or dock dates are understood.
Standard Etch Tolerances
.018" minimum material thickness
Requires .010" stroke and spacing for graphics
Etch depth: .0015" to .003"
Have more questions? Contact us to be connected with one of our Sales Managers and let us help.
Subscribe to Nameplate Blog