Build Brand Awareness with Aluminum Nameplates
Aluminum nameplates are used to boost branding efforts by a company. They can showcase a product name, a corporate logo or simply an icon. A great example of this is looking at the Ford Mustang. The horse image is easily recognizable as the iconic logo for the muscle car.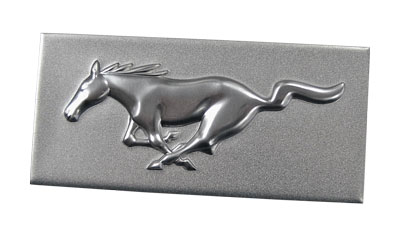 This engine cover badge carries the brand into an area of the vehicle which isn't expected. Under-the-hood automotive badging is exposed to harsh elements including temperature extremes, grease, oil, dirt and grime. The bead blasted background contrasts with the high gloss 3D emboss to really draw attention to the horse logo and detailing makes it pop up from the surface. It is a favorite example of durability and elegance achieved with embossed aluminum.
Nameplates are an Extension of the Brand
A great deal of effort typically goes into your brand identity to select the right colors and type style. Even standard asset tags can benefit from paying attention to the graphics and design. A nameplate gives opportunity for the brand image and value to carry over to the product identification. A premium product can be dressed up even more with a premium badge.
Ready to create a nameplate to increase your brand awareness? Let's talk!
Subscribe to Nameplate Blog