Limited Edition Etched Aluminum Nameplate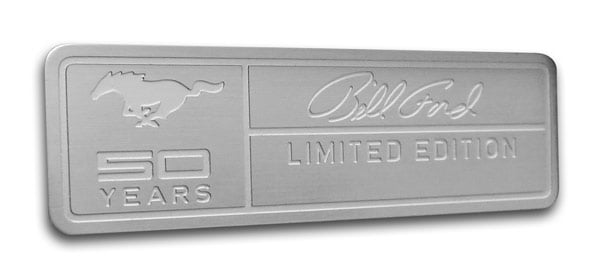 The 50th Anniversary Ford Mustang is a limited edition with just 1964 vehicles produced. A special edition nameplate to commemorate this milestone features deep etched aluminum graphics for a two tone look. The deep etch process creates dimension without additional tooling operation. It is an option to achieve the look of silver on silver for aluminum nameplates.
Deep Etch Process for Aluminum Nameplates
Deep etching is a chemical decorating process for aluminum nameplates. Graphic details should allow standard tolerances of +/- .010" stroke and spacing. The artwork is transferred to the aluminum sheets with a screened resist which indicates which areas of the aluminum will be cut away. The chemical etch process cuts away the surface of the aluminum, leaving behind areas which are recessed, or pressed into the metal. The result is a premium looking emblem with contrast and visual dimension.
Deep Etch Considerations
● Premium finish for a two-tone look with visual depth
● Provides etch depth of approxmiately .005"
● Minimum .023" thickness of aluminum
Can we help with your next design? Let's talk!
Subscribe to Nameplate Blog