Diamond T Truck Applique by Bill Sexton
Diamond T's were manufactured in Chicago beginning in the 1905 and eventually merged with Reo and became Diamond Reo's. During their time of manufacture, they were considered to be the "Cadillac of Trucks" and had many features not available on standard working vehicles including roll out front windows and vents. The most distinctive element of the Diamond T is its stainless steel front grille with several horizontal "teeth". Looking much like a modern semi-tractor, their pickup trucks are the most rare and highly prized by collectors.

Diamond T Truck Photo
By Bidgee (Own work) [CC-BY-3.0 (www.creativecommons.org/licenses/by/3.0)], via Wikimedia Commons
Diamond T pickups sported a "nose piece" that included a black cloisonné emblem with a gold "T" in the center and framed by gold in a diamond pattern. These emblems are often lost or damaged and are not available as parts or replacements since the company is no longer in business.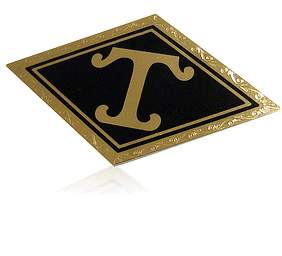 Pictured above is the recreated nameplate for the Diamond T Truck. Clear ink is screened to create a filigree texture that you can see and feel.
Northern Engraving has been an instrumental part of automobile manufacturing for over a century and many of the early medallions were developed by previous leaders of the company. As I work with restoration specialists, they are quick to mention Northern Engraving as the maker of ornamental pieces on collector cars and trucks.
Knowing the history and having personal experience and relationships with many at Northern Engraving, it was only logical for me to choose Northern Engraving to make the reproduction pieces for America's finest trucks. The results of the manufacturing efforts are a beautiful representation of Diamond T history.
Subscribe to Nameplate Blog