Multi-Level Looking Aluminum Nameplate without Multi-Level Tooling
Are you looking for a way to show dimension in your nameplate or label but the budget does not have room to include a multi-level emboss tool? You are not alone. Keeping costs down is a common concern when designing a nameplate or badge.
There are decorating options available which will give you the appearance of height without added expense and complex tooling operations.

This aluminum badge is a great example of using printing techniques to achieve the look of multiple levels. A basic stamping and emboss tool provide the shape and height to the border and brand name. The part is to give the appearance of a flowing banner. Rather than compounding the tool with additional forming or a secondary emboss operation, an optical illusion of sorts is used. There is a slight difference in color between the outside areas of the banner and the area behind the MARGARITAVILLE embossed graphics. This is enough to achieve the dimensional look.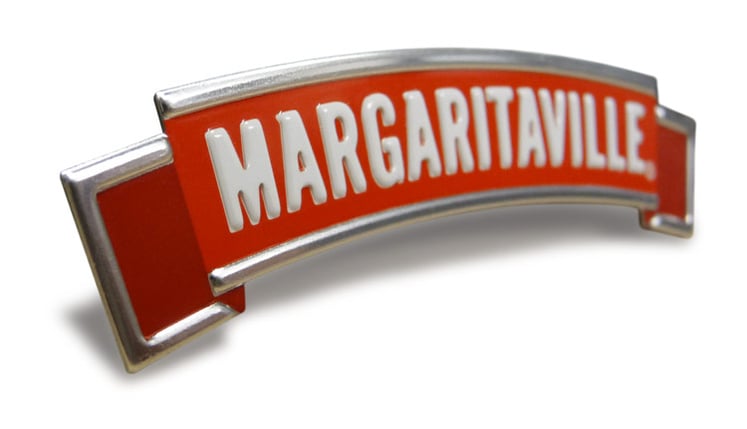 Other options besides using color variants exist to gain dimension or depth in your nameplate. Dimension for metal emblems and labels can be added with printed halftones as well as fine detail and blending of colors. Brushed aluminum can create the appearance of beveled edges on nameplates. Other mechanical finishes like engine striped aluminum can be used to create movement and the look of shimmering metal.
Complex tooling does not have to be part of the solution to create an attractive and eye-catching nameplate to showcase your brand. Take advantage of decorating processes like standard printing and mechanical finishes as ways to keep your tooling investment at a minimum.
Looking for ways to achieve dimension in your next nameplate? Let's talk!
Subscribe to Nameplate Blog