Understanding Mechanical Finishes on Aluminum Nameplates
Mechanical Finishes on Aluminum Nameplates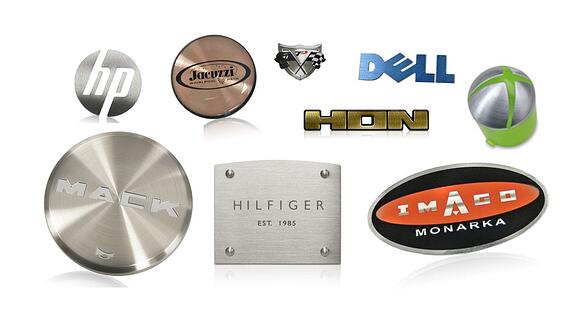 Mechanical finishes combine with standard aluminum nameplate decorative processes to increase perceived value by creating movement and the look of shimmering metal. Use one or incorporate layers of brush and spin to create a unique look.


Spin
Spin creates movement behind transparent tint of color for any aluminum nameplate. When used in selective areas, it adds an accent or draws attention to a logo.
Brush
Many aluminum nameplates utilize allover brush in the background for a finished look. This option also can show depth or give appearance of beveled borders.
Engine Turn
For a sporty look, engine turn is a popular option. This builds off of the standard spin and creates layers resulting in greater movement behind any transparent tint on an aluminum nameplate.
Engine Stripe
Engine stripe is another option for a sporty look. It can be used as an overall background for aluminum badges or selectively combined with textures or transparent tints. Either option creates a stunning high profile look.
Layering Mechanical Finishes
Layering mechanical finishes on aluminum produces an interesting combination of depth and dimension. The surface of the aluminum becomes interactive and "flips" around creating a multi-dimensional piece.

Now that you've walked through options for mechanical finishes on aluminum nameplates, let your next design come to life. We can help!
Subscribe to Nameplate Blog