Favorite Nameplate | Point of Purchase Aluminum Nameplate
Guest Blogger
This article is part of a series of articles from my co-workers on their favorite nameplates. Seth Jacobson, our guest blogger this week, chose an aluminum nameplate which was designed to grab attention for a consumer product's point of purchase display.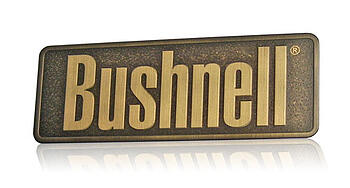 I've owned a pair of Bushnell Binoculars since before I can remember. So when I first saw this aluminum nameplate I immediately had flashbacks of years of hunting and Sunday evening drives looking for deer. Not only does this badge bring back a ton of memories, but represents what I think of the Bushnell brand. Blue collar, reliable, no frills. The simulated antique brass finish is a subtle look for the embossed brand name and border. Coupled with a textured background, the overall look fits the image of outdoors and recreation. This is a great example of how a nameplate doesn't have to use high gloss and bright colors to stand out and grab attention.
Seth Jacobson Sales Development Representative

Seth reviews requests that are received via our website and works with new customers to ensure a smooth transition to production. He also assists the Customer Service team with key account management.

What type of environment does your nameplate or label need to be used in?
Subscribe to Nameplate Blog