Foam Adhesive for Uneven Surfaces or to Fill a Gap for Aluminum Nameplates
Are you looking for an adhesive option for a nameplate that is applied to an uneven surface or where there is a potential for a gap between the nameplate and product?
Foam adhesive varies in thickness and can accommodate for a gap between the product and the nameplate. The foam has adhesive on the front and back sides, which allows for a tight bond for attachment on the nameplate and end product. The base material can be open or closed cell. There are three main base materials to choose from:
polyethylene close cell foam

polyester open cell foam

polyurethane close cell foam
Recommendations in material composition and thickness are made based on the substrate the nameplate is applied to and the specific guidelines the bond needs to meet.
The foam backing can be applied to an uneven surface with the assistance of a plastic insert. This eliminates any ridges to pass over onto the foam, leaving a flat bonding surface.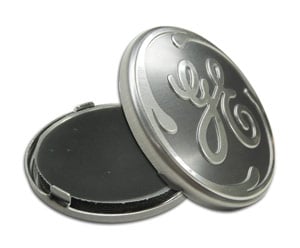 Foam adhesive can be used to fill up the space on the back side of a metal badge that has a formed over edge. The thickness of the adhesive will be determined by the depth of the draw or wiped over edge and by your specifications for how high the badge should sit up from the mating surface. Thickness options for the foam currently range from .015" to .125".
It may be necessary to make use of a jig to assist with the assembly of the aluminum badge that has foam adhesive to your product. Locating tabs or notches can also help to ensure proper location and orientation on the end product.
Foam adhesive is used across a variety of products from outdoor furniture to exterior automotive badges.
Do you have more questions about attachment options for your nameplate or badge? Let's talk!
Subscribe to Nameplate Blog