Bonding Challenge Solved with Foam Adhesive on Aluminum Nameplate
This post originally appeared on Northern Engraving's Identity Solutions Blog. For more content like this, subscribe to Identity Solutions.
Bonding Challenge with Teak Wood Solved with Foam Adhesive on Aluminum Nameplate
This customer makes high end outdoor furniture made from teak. Their desire was to have a substantial looking aluminum nameplate that reflected the quality of their furniture. An additional requirement was to find an adhesive that would bond well to the teak wood. Teak wood tends to excrete an oily substance as it matures with age. In the past they had tacked their nameplate onto the furniture which is slow and costly.

"It is not uncommon for clients with difficult adhesion applications to seek help from Northern Engraving," related Jerry Chenoweth, Regional Sales Manager. A wide range of adhesives are available in nameplate manufacturing. Recommendations are made based on the substrate the aluminum nameplate is applied to and the specific guidelines the bond needs to meet. In this case it was determined that one of our foam adhesives worked the best.
Foam Adhesive Adds Substance to Aluminum Nameplates
The client also wanted the nameplate to look substantial. A side benefit of the foam adhesive, besides bonding well, is that its thickness along with the .023" thick aluminum on which the nameplate was decorated gave the overall appearance of a substantial nameplate. The pull off liner simplifies attachment of the tag to the furniture. The result is a cost effective, high end looking aluminum furniture tag which enhances the quality reputation of the company.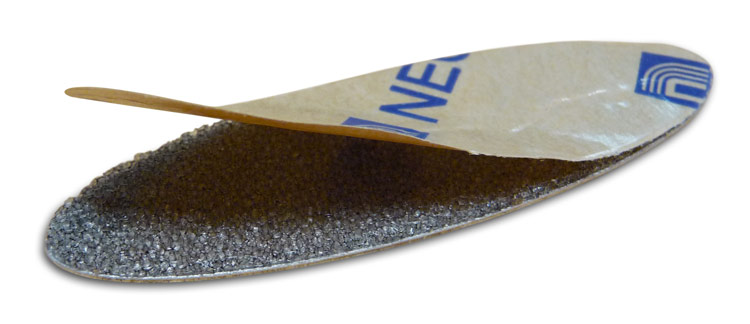 What kind of challenges do you have with your nameplates? We can help! Let's talk!
Subscribe to Nameplate Blog