Coach Legacy Stripe | Cosmetic Appliqué on Aluminum
Coach Legacy Body Creme Packaging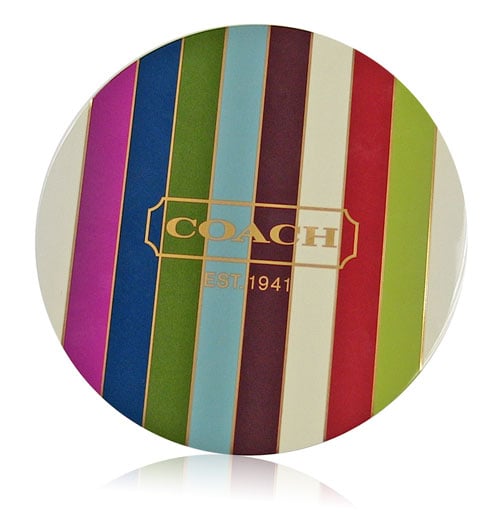 Coach's 65th anniversary collection included the iconic Legacy Stripe on everything from handbags and bangles to fragrances. Packaging for the Coach body creme includes an aluminum appliqué screen printed to coordinate with the anniversary collection. Translating the Legacy design on to aluminum began with a custom color match of the eight colors used in the bold stripes. The colors are combined with a transparent gold tint which takes advantage of the reflective surface of the metal. The gold Coach logo and pinstripe between each color require critical registration in the printing of the insert. The design includes a clear texture printed on the gold tint gives a slight relief to the appliqué.
Assembly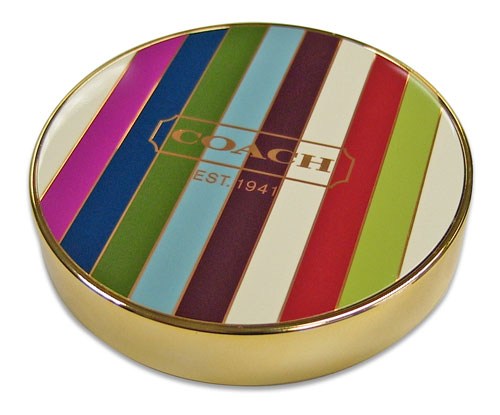 The aluminum appliqué is assembled to the cap with pressure sensitive adhesive. Assembly is done in our nameplate manufacturing facility. Our customer service representatives are available to help answer any questions you have regarding assembly options for nameplates, labels and emblems.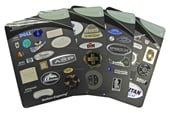 Request a Nameplate Materials and Processes Guide to begin exploring the options available to you in creating your product branding. Custom color matches, texture and assembly are only some of the options in creating your nameplate.
Subscribe to Nameplate Blog