Four Ways to Use Engine Stripe in Your Nameplate
Engine Striped Aluminum Nameplates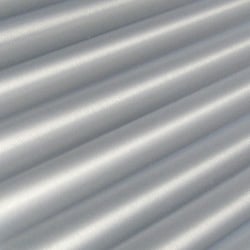 Engine stripe is a mechanical process where the surface of the aluminum is abraded to create depth and movement. The process involves dragging a small circular head across the sheet of metal. The result is a stripe made up of an arching brush (picture a row of the letter c nested together, i.e. ccccccc). The finish can be applied selectively with the use of a printed resist. The resist is removed once the engine stripe is complete. The resisted areas remain bright aluminum.
Engine stripe has seen renewed interest in recent years as it is an authentic metal finish taking advantage of the natural reflective quality of the aluminum. Other mechanical finishes available to be combined with engine stripe are brush, spin and engine turn. This article covers options in incorporating an engine stripe finish into nameplates and labels.
Options for Integrating Engine Stripe into Nameplates
Engine stripe graphics on flat nameplate:
Engine striped embossed graphics:
Engine stripe with transparent tint of color:
Engine stripe background of nameplate:
Engine Stripe Graphics on Flat Nameplate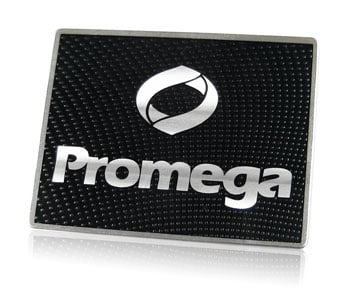 The Promega nameplate illustrates beautifully the impact of adding an engine stripe finish to graphics. The logo takes on a almost holographic appearance. The simple addition of a mechanical process to the nameplate's clean design draws your attention to the part.
Engine Striped Embossed Graphics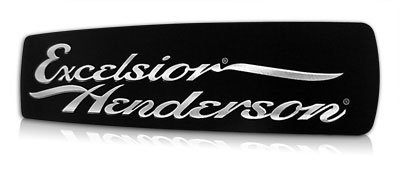 Adding an emboss to the engine striped graphics further defines the graphics while adding dimension. The Excelsior Henderson nameplate utilizes the same high contrast black and silver color scheme as the previous nameplate but is finished in a low gloss topcoat rather than the high gloss finish shown above.
Engine Stripe with Transparent Tint of Color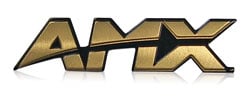 The engine stripe finish is not limited to silver. Layering transparent tints of color over the engine stripe further customizes the look to your brand. The AMX emblem is manufactured in both a silver and gold.
Engine Stripe Background of Nameplate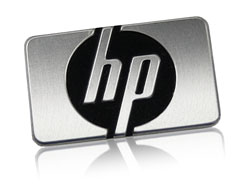 This attention getting look isn't limited to graphics. HP uses this finish successfully to create a soft glow on the surface of the metal. It is one more option to consider when incorporating a silver finish into your product branding.
Subscribe to Nameplate Blog