Trek Madone Nameplate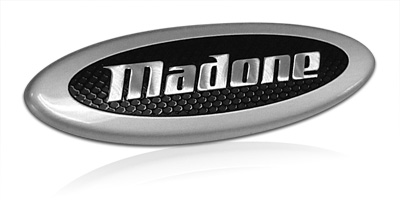 Engine turn is applied to the Madone logo creating movement in the nameplate. The engine turn process is a mechanical process creating a series of tightly spaced overlapping spins. The circular appearance is lost when used in fine graphics as shown here. However, the natural highlights and shadows in the metal are present adding to the jewel-like appearance. Embossing adds further detail to the logo.
The contrasting background area features a screen printed texture, a simple geometric pattern created using a clear gloss texture on the black background. The outside border is a matte aluminum formed down. The nameplate has a slight contour. A foam adhesive assembled to the back is used for application of the nameplate to the bike.
The engine turn process is used in this nameplate creating a unique look. How would you use the engine turn process in a nameplate?
Subscribe to Nameplate Blog