Boat Gauges | Aluminum and Polycarbonate
Marine Gauges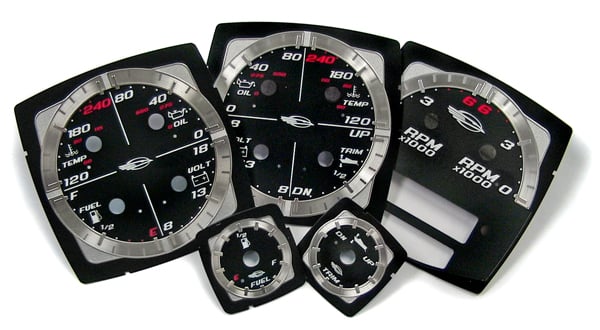 The mixed material Chaparral boat gauges integrate a decorated aluminum overlay with a backlit polycarbonate dial, resulting in a unique premium look.
The aluminum overlay is spun with bright accents. Embossing is used to add emphasis to the major grads. Metallic silver accents the tone on tone silver design. A matte black finish ties the metal and plastic materials together. It frames the gauge and is used as a background for the backlit graphics.
The mixed material design opens the possibilities for gauge design. Technical and mechanical finishes can be incorporated into the metal overlay. The metal can be embossed and formed creating further design options for product differentiation. The polycarbonate material allows for deadfront and backlit graphics used in traditional instrumentation dials.
The marine gauge is an example of taking inspiration from other products. Innovation in a market can often be reinterpreted across another application. We see it happen often between our automotive and nameplate customers. How would you apply the laminated metal and plastic option in a gauge or other trim to your product?
Subscribe to Nameplate Blog