Outdoor Weather Resistant Nameplate
Marine Nameplate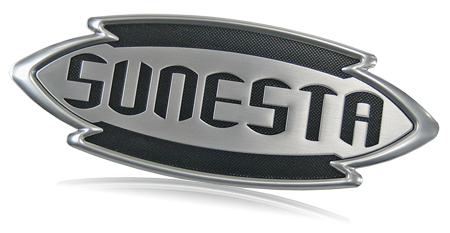 This aluminum nameplate combines a multi-dimensional emboss and screen printed texture to create a premium badge which stands up to the marine environment. The Sunesta graphic is debossed while the border is embossed in a multi-dimensional facet.
Nameplate Decoration
The marine environment is one of the harshest outdoor environments with high temperatures, humidity and salt water. Understanding the environment your nameplate will be exposed to helps in making decisions about appropriate materials and processes to meet your product needs. A number of protective topcoats are available to fit various environmental demands.
Nameplate Adhesive
Considering the environment your nameplate will be used is an important consideration when determining the method of attachment. Other considerations when choosing a nameplate adhesive include the type of substrate the nameplate is applied to and the specs the bond needs to meet. The Sunesta nameplate uses a foam adhesive for assembly to the boat.
What other outdoor applications come to mind for a nameplate? What are the environmental considerations for those applications?
Subscribe to Nameplate Blog