3 Backlit Graphic Options for Polycarbonate Overlays
A common question when working with plastic overlays centers on options for backlit graphics. Many times the overlay is a gauge or instrument panel overlay which provide cautionary, indicator or information alerts to communicate with the user of the device. Perhaps a low fuel alert is needed to light up red when there is concern. Or your design calls for an indicator showing that power is turned on for the device and as such, certain graphics will light up. Another example is the need to have speedometer gauges light up at night in order for the driver of the vehicle to know current speed or temperature readings.
Polycarbonate is a friendly substrate to utilize for these types of situations. It typically starts out clear which means that virtually any color that is needed can be applied during decoration. Your artwork should call out the graphics or text which needs to light up as well as confirm the color for both lit and backlit. Water clear colors are available for VF displays. Vibrant transparent tints of colors are common for speedometer readings, on/off indicators or to specify graphics to light up when in use.
1. BackLit Graphics for Indicator Button
The addition of a clear urethane dome or Flexlens to the polycarbonate with transparent tint, gives a button-like feel.
2. Dead Front Graphics for Instrumentation Panel
Decoration of the polycarbonate hides the backlit graphics until they are lit up from behind.
3. Backlit Graphics for Speedometer
Define specific day time and night time colors so that when the vehicle lights are turned on graphics light up differently than when they are turned off.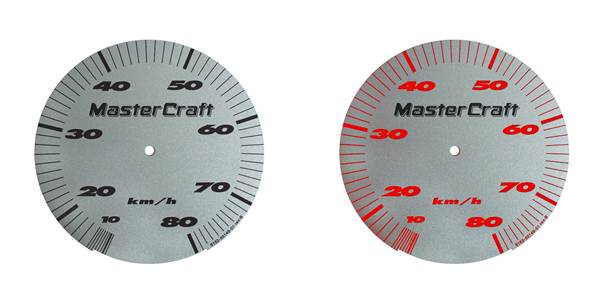 Backlit graphics require attention for light filtering. Care is taken to understand the level of diffusion or compensation that is required to provide the right areas of lighting to meet your requirements.
Now that you have reviewed options to have backlit graphics, where can you use them in your designs?
Subscribe to Nameplate Blog