Favorite Nameplate | Premium Branding with Aluminum In-Mold Graphics
Guest Blogger
This article is part of a series of articles from my co-workers on their favorite nameplates. Garth Stockbauer, our guest blogger this week, chose an aluminum nameplate in the golf industry which incorporates mixing of materials between the metal nameplate and molded plastic resin for a premium look and increased perceived value for the brand.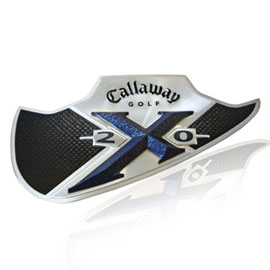 My father introduced me to the game of golf at an early age and I have wonderful memories of our time together out on the links. When I first saw the collection of nameplates we produced for Callaway many of those emotions raced back to my mind. Of all the variations we have crafted for the company, I think my favorite would have to be the X20.
A branded identification plate for the back of the golf club, seems simple enough. In reality there is nothing simple about it. The nameplate was crafted using some of the most innovate techniques in the industry: spun aluminum for movement, textured pattern to add interest, multi-layered embossing for height and through-mold (over-mold) injection for a truly magnificent effect.
Callaway is a company that understands technology and prides itself on manufacturing some of the best equipment in the market. I believe we embraced that ideology and created a nameplate that is worthy of the Callaway name. I now have the pleasure of sharing the game of golf with my two sons - a great pastime that will be shared with generations to come.
Garth Stockbauer Regional Sales Manager

Garth is a Regional Sales Manager, working closely with the designers and engineers of key accounts, keeping relationships strong.

Do you want a premium look for your aluminum nameplate? Let us help!
Subscribe to Nameplate Blog