Aluminum Appliance Panels Get Facelift for a Cause
Limited Edition Customization
What do you do when you have an existing product with branding and decoration but need to change the decoration for a special run? Do you have to start from scratch with the aluminum trim design? Certainly not! This is actually a common need to differentiate between product lines without breaking the bank in the process.
One of the benefits of building a hard tool for your aluminum trim is that you can have more than one decoration specified for your product lines. Assign a unique part number for ordering and inventory purposes to keep the different designs in order. Artwork only changes keep costs low and give you the ability to capitalize on your original tooling investment.
This set of aluminum appliance panels are great examples. Existing production tooling allows the OEM to use common mechanical functions for both washer and dryer housings. Updated graphic files with the addition of familiar pink ribbon for breast cancer awareness ties in with the limited edition theme. Custom color development to match the molded control knobs further pulls the design together, resulting in an attractive facelift to support a cause.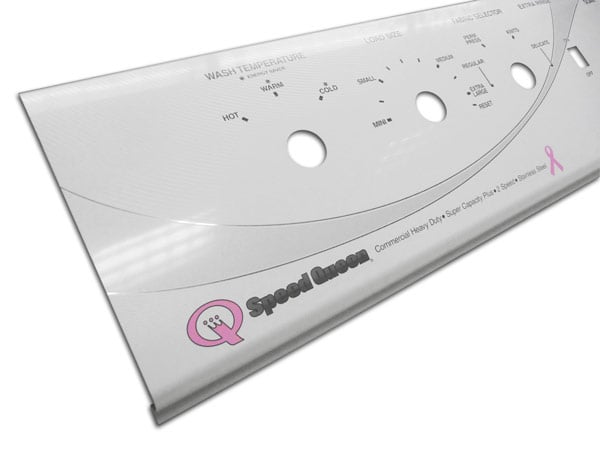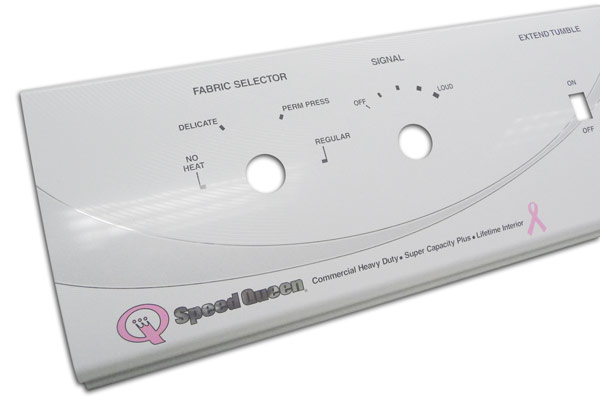 Is your decorative branding in need of a facelift? Let us help!
Subscribe to Nameplate Blog