Product Differentiation Through Nameplate Design
This article focuses on combining specialized printing with a common tool to create unique looks across your brand. Callaway used this approach to differentiate their clubs designed for men and women. Each version is distinctly colored to appeal to the individual end user.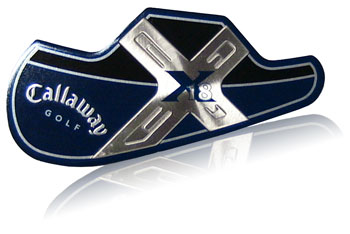 The men's nameplate includes navy blue and black inks highlighted and separated by bright aluminum trim. The large X in the center is mechanically spun to create a circular pattern on the aluminum. While somewhat simple colors are utilized together, a custom look is created and the brand is very evident on the badge.
The nameplate created for the women's clubs includes a mother of pearl coloration, which is created using our four color process. To accent this pearl look, a gold tint has been added to the exposed aluminum on the X and the trim. The same navy blue ink color used on the men's version is also used here to contrast the pearl and gold and allow both accents to stand out.
No matter which version you purchase, a unique look and recognizable brand is sure to get noticed while on the course.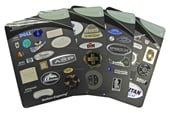 Request a Nameplate Materials and Processes Guide to begin exploring the options available to you in creating your product branding.
Subscribe to Nameplate Blog