Most Popular Posts of 2012 | Nameplate Blog
With the year over, I thought it would be interesting to see which articles were of most interest to you in 2012. It's a fascinating exercise to see what resonated most with you as we look back on the year through our blog.
1. Victory Motorcycle Badge
More than just another piece of chrome.
Read More

2. Introducing 3-D Nameplate Stock Dies
Northern Engraving now offers 3-D stock dies to support your needs for cost-effective product identification with minimized lead time.
Read More

3. Bright Chrome Applique for Fragrance Packaging
The use of innovative materials such as aluminum is one way for brands to differentiate from competitors.
Read More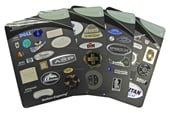 Request a Nameplate Materials and Processes Guide to begin exploring the options available to you in creating product branding that differentiates your product. Custom color matches, texture and assembly are only some of the options in creating your nameplate.
Subscribe to Nameplate Blog