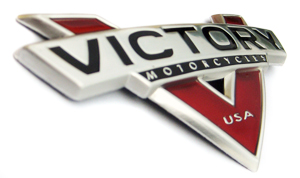 The new Victory motorcycle badge incorporates deep drawn bright aluminum to give the part a substantial presence on the bikes while fine details in finishing make the badges more than just another piece of chrome.
The use of selective brushing and a vivid transparent red ink draw your attention to the Victory "V". Selective brushing is a mechanical process which abrades the surface of the metal, creating an authentic metal surface. Brushed metal combines with standard nameplate processes to increase perceived value.
The "V" is further accented by a selective application of urethane lens to add visual depth. Urethane doming is a clear coating applied over the transparent tint, and achieves a high-end finish that makes the badge stand out. Reflections move on the urethane surface as the viewer's point of view changes.
The Victory motorcycle badge was an exciting design and engineering challenge for both Victory Motorcycles and Northern Engraving. We were able to give them the uniqueness and customization they desired through selective applications.
Learn more about the challenges and innovative solutions involved in the design and manufacturing of this part in our case study.
Subscribe to Nameplate Blog