Slit Back Label Makes Assembly Easier
Are your labels supplied on a sheet? Do they require assistance in adhesive liner removal? If so, our slit back label liner may be just what you are looking for.
Front:


Back:

The slit back, or back split, option features an overall adhesive application on the label with a backing containing a slit from top to bottom in the center. One side of the backing can be removed and the label applied smoothly with the remaining side to follow. This eliminates bubbling and mis-alignment during the application process.
There are many other adhesive options in addition to the slit back. To determine which option is best for you, contact our customer service representatives, as they will guide you through the decision making process.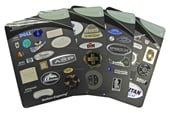 Request a Nameplate Materials and Processes Guide to begin exploring the options available to you in creating your product branding. Adhesive and assembly are only some of the options in creating your nameplate.
Subscribe to Nameplate Blog