Options in Two-Tone Nameplates
Our guest post this week comes from Vicky Bowie, Sales Development Representative. Trends in customer requests and designs led her to share some options that may be of interest when creating your nameplate or label.

In recent conversations with customers, I have noticed a trend in requests for two-tone silver or gold nameplates. This decorative technique is suitable for various nameplates and logos, and on differing substrates, including aluminum and plastic. Here are just a few examples of nameplates with a two-tone finish.
Chrome Polyester

Chrome polyester labels are available in custom shapes and sizes and in an unlimited range of color choices. A silver metallic is used to complement the embossed silver name on this logo. The nameplate is applied to various types of Maxon furniture, on which the nameplate needs to conform to the shape of the item. This label illustrates the versatility of chrome polyester, also referred to as Mylar® film, to be used in a wide variety of applications.
Metallic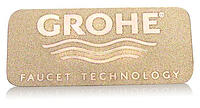 Metallic colors are naturally low gloss and complement a nameplate when contrasted with bright aluminum. They have metal flakes which give a distinct look to the finish. The size of the flake can be varied to create metallic effects ranging from very fine to coarse. In addition, the rich finish increases the perceived value of the product identification.
Bright Aluminum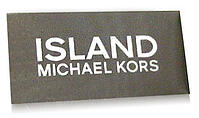 A bright aluminum is used on this nameplate to create a chrome-like backdrop for the metallic logo. The polished aluminum background contrasts with the printed white metallic process creating an etched look.
Emboss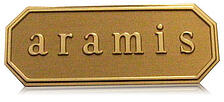 A nameplate featured on a fragrance needs to be a symbol of luxury and relevance to its brand. This nameplate has a gold overall tint which creates a luxurious look, while the embossed graphics highlight the brand by creating a three-dimensional image.
Etch

Deep etched graphics on a low gloss brushed aluminum surface build tactile and visual interest. Etching is a chemical process used to cut into the metal surface creating a desired graphic design. This process can be utilized on flat nameplates, similar to the example above, to establish dimension.
The nameplates featured here illustrate some of the options available to you in creating a two-tone look on metal and plastic substrates. What other ideas do you have for creating the look you need for your product identification?
Subscribe to Nameplate Blog