Flexible Chrome Label for Furniture
Custom Chrome Label and Decals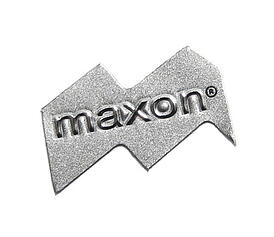 The relationship between embossed chrome graphics and a matte metallic background are juxtaposed in this furniture label. This label illustrates the versatility of chrome polyester (Mylar® film) to be used in a wide variety of applications offering the look of a metal label at the cost effective price of plastic. Sharp angles in the label design follow the shape of the logo. A new aesthetic emerges through this combination of precision and surface finishes.
Chrome Polyester Labels
Chrome polyester labels are available in custom shapes and sizes and in an unlimited range of color choices. Low cost tooling makes these labels and decals an attractive option for low volume needs. The labels are manufactured with permanent pressure sensitive adhesive and a carrier for easy removal of the liner. Overlamination is available providing added protection from abrasion and solvents.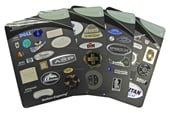 Request a Nameplate Materials and Processes Guide to begin exploring the options available to you in creating product branding that differentiates your product. Custom color matches, texture and assembly are only some of the options in creating your nameplate.
Subscribe to Nameplate Blog