Basics of Nameplate Manufacturing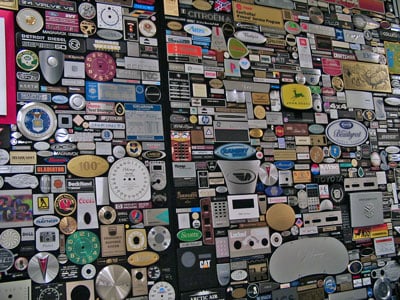 3 Critical Considerations in Designing a Nameplate
Are you designing a nameplate or emblem to represent your brand? If so, you're considering finishes, shape and dimension. And, you need to understand how all of these decisions impact the cost.
If you don't understand the basics of the manufacturing process, you may not be getting the most out of your efforts.
Aluminum nameplates that you see here have one thing in common; they are all decorated in the flat sheet. This offers distinct advantages in the design of your product identification while helping to control costs.
1. All decoration is done in the flat sheet with multiples on the sheet. This is cost effective since numerous parts are being processed at once rather than piece finishing.
2. Decorating in the flat sheet allows for critical registration between colors, finishes and dimensional graphics. Print developments aid in aligning printed decoration to embossed graphics and formed borders.
3. Decorating in the sheet also allows for finishes to be applied selectively. Mechanical finishes, such as brush or spin, are not limited to overall application. They can be combined with bright graphics. In addition, gloss and matte finishes can be integrated into one design. Finally, textures and patterns can be added to create detail and add interest.
Don't hesitate to explore the numerous options available to you in building your product identification. Subtle changes can make a big difference. Understanding critical considerations allows you to push boundaries -- while staying within budget.
Subscribe to Nameplate Blog