A Custom Pattern on an Aluminum Nameplate
Multimedia Games Nameplate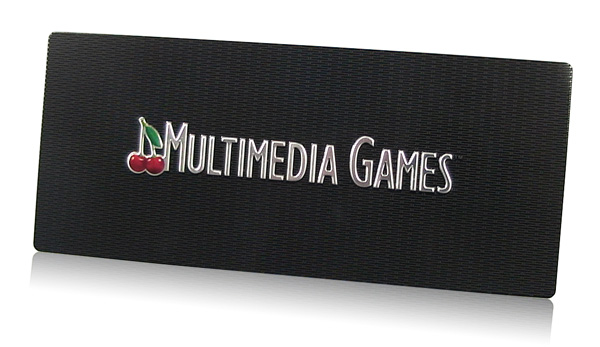 When Multimedia Games, a recognized leader in interactive wagering and sweepstakes games, needed a nameplate to support their brand, they created a custom pattern to contrast with their logo. The logo is embossed bright aluminum with four color process printing used to capture the details in the cherries.
Custom Pattern Design on Aluminum
The starting point for the textured pattern printed in the background of the nameplate was a finish from our pattern library. Printing and brushing steps were removed from the pattern eliminating costs from the nameplate. The finish uses printed texture to create a tone on tone effect. The final result not only looks wonderful with a rubbery soft matte texture on a shiny black background, it feels great.
Patterns and textures add detail and interest to product branding. Options range from distressed metal finishes and simple geometric textures to semi-precious stones and leathers. In addition, changing the pattern is a cost effective option for differentiating across models.
How would you incorporate a pattern into a nameplate? What types of nameplates are a good candidate for this option? What types of patterns or textures would you consider to support your product branding?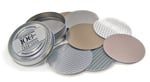 The designer disc collection features a cross-section of finishes on aluminum. It begins to illustrates the versatility of aluminum as a decorative substrate. The pattern samples are labeled for easy identification. The discs are useful when designing a custom finish. Request a disc collection to begin exploring the variety of textures and finishes available for nameplates and labels.
Subscribe to Nameplate Blog