Not Your Typical Label Application
Champagne Label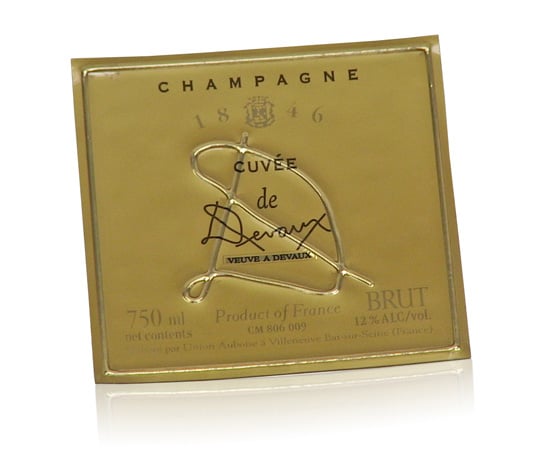 As I've said in previous articles, the processes and substrates that Northern Engraving offers are the tools. It is up to you to decide what you do with these tools. This means there isn't a catalog of standard nameplates, labels and emblems. Each part is custom designed to meet your needs and vision. You are not limited to a nameplate. Your nameplate may be integrated into a larger decorative trim piece. Or rather, your product may not be your typical nameplate application. This chrome polyester label created for champagne bottles is an example of expanding the boundaries of where a flexible label is used. This designer chose to stand out from the competition by rethinking the label and straying away from what has been done.
The tone on tone effect combines a metallic gold background with a transparent gold tint of color. Details are embossed to add dimension. The flexible adhesive label is an attention getting design in the line up of champagne labels.
What other maybe unexpected applications come to mind for nameplates or labels? How would you use these tools to make your product stand out?
Subscribe to Nameplate Blog