Stitching a Domed Label on Fabric
Each product has its own unique set of challenges in creating a strong brand presence which differentiates the product in the marketplace. A nameplate can help a product stand out among others and deliver a clear consistent look for a brand.
Simmons wanted to create a cost effective nameplate that would catch attention on the showroom floor. They also needed the nameplate to be applied to a variety of types of fabric. Since the side of the mattress flexed in use, it was important that the label also flex.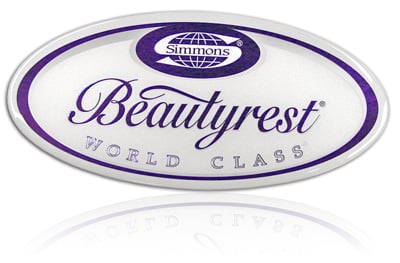 The domed label that was designed met all challenges unique to a mattress application. A chrome polyester substrate was combined with a deep transparent purple tint for visual depth. This was accented further when a flexible urethane dome was applied to the label. The dome also complimented the mother of pearl effect used in the background of the nameplate.
The solution for applying the domed label to fabric was to stitch the label to the mattress right through the urethane dome. A pressure sensitive adhesive was used for initial placement of the label.
Subscribe to Nameplate Blog