Nameplate Archive | Embossed Aluminum as Alternative to Die Cast Emblem
Designing a piece of decorative trim to include the look of separate parts is not a new concept. This is evident in how many different industries have embraced the idea - computers, electronics, appliance, boat trim and automotive trim to name a few. It is opportunity to maximize tooling operations as well as decorating processes which result in complex looking parts.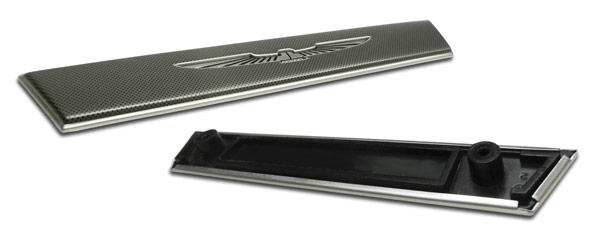 This interior automotive trim piece features the Ford Thunderbird logo which appears to be inlaid within a die cast emblem. Mutli-level emboss operations create a "step" for the outside border and decorated dot pattern top surface. The thunderbird logo is debossed into the surface, creating the look of a separate nameplate within the emblem. The edges are formed over and crimped to a plastic backer for attachment.
An advantage to this type of design is that there is just one piece for assembly to the final product instead of needing to align and attach a separate nameplate into the recessed area. The resulting trim piece is a premium badge with the look of a heavy die cast part without the weight.
Next time you are looking for dimension and height in your badge or emblem design, why not review possibilities with aluminum? When you're ready, we're here!
Subscribe to Nameplate Blog