New Addition to 3-D Aluminum Stock Die
The latest addition to our aluminum 3-D stock die collection is a fabulous rectangle shape, 1" x 3.55". The formed edge allows the badge to stand up from the surface of the product. Pressure senstive adhesive is used for attachment.
Decoration is clean and provides interest using selective metallic ink coupled with a gun metal transparent gray tint. Bright graphics bring attention to the 3D Emblem logo. Options to customize this for your project are wide open.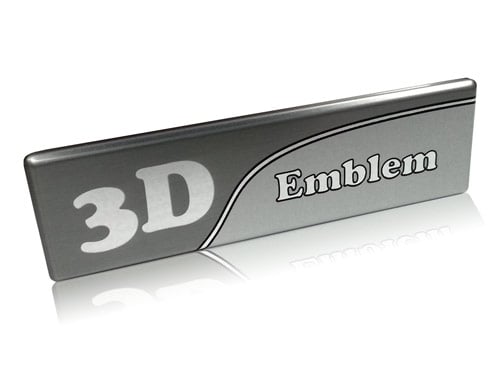 3-D stock dies are custom designed nameplates available in any color and finish. A stock die enables cost-effective product identification without needing to consider tool build lead time for product launch. The sizes and shapes can be used in any industry including appliance trim, consumer electronics or furniture.
Advantages in choosing a 3-D nameplate include:
•
Versatile
• Durable
• Attractive
Other Options in 3-D Stock Dies:
•
1" Round
• 2" Round
• 1.5" x 3" Oval
Subscribe to Nameplate Blog