Favorite Nameplate | Coca-Cola Sign
Guest Blogger
This article is part of a series of articles from my co-workers on their favorite nameplates. Sonya Stone, our guest blogger this week, chose an aluminum part which brings back childhood memories. This part does grab attention and enhances the well-known brand with crisp detail and bright graphics. Take a walk down memory lane with Sonya.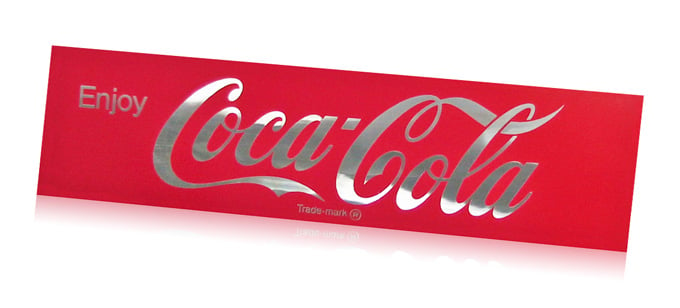 It is amazing how little things can trigger memories from long ago. The Coca-Cola nameplate is definitely one of them.
Whenever I see this red aluminum nameplate with the
embossed
and
diamond cut
Coca-Cola Logo I am instantly reminded of my childhood. The first thing I always noticed when I walked into my grandfather's service station was the Coca-Cola vending machine with the bottle cap opener on the side. The vending machine seemed enormous to my young eyes, not to mention I knew I would always get to share a Coke with my dad when I visited.
Sonya Stone Customer Service Representative

Sonya is part of the Nameplate Customer Service team who works closely with key accounts and the Sales group to ensure timely processing of quotes and orders.
Let's work together to make your memorable nameplate!
Subscribe to Nameplate Blog