Coined Graphics Provide Subtle Dimension for Aluminum Nameplates
Subtle Dimension for Appliqués
Sometimes the packaging or housing surface for the end product is not friendly for a dimensional look. Your design calls for graphics which are set down into the label or appliqué. How can this be achieved without causing attachment concerns? Coined graphics on aluminum provide an elegant option.
Coined Graphics

Coining aluminum is part of the tooling process which involves a custom stamping tool made to match graphic elements of the design. The coined tool causes a slight depression into the surface of the decorated aluminum, without major disruption to the backside (shown in the image to the right with the "HILFIGER" graphic). This allows for a smooth surface and maximum contact area for adhesive bonding to the mating surface. The coined area can be registered to colored graphics for further detail and distinction. This refinement is developed and perfected during the tool build so that when it is time to put decorated stock through the tool, quality parts are produced. Without colored graphics, a subtle two-tone image results within the coined area. Either option enhances the brand with elegance and a precise look.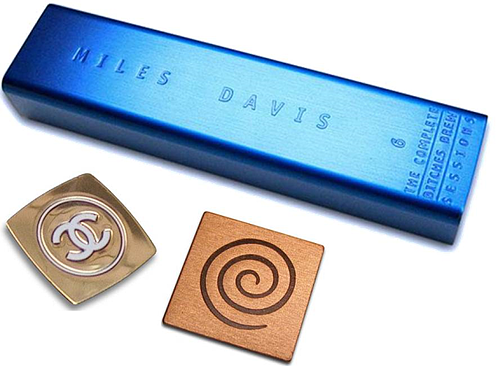 The images above show examples using coined graphics from the cosmetic and packaging industries. This type of tooling can be used in any market when subtle dimension for graphics is needed.
• Precise registration of graphics is achieved with standard tolerances ± .010".
• Contrasting or complementary colors for detail and brand recognition are retained within the coined areas.
• Coordinates well with other tooling operations including emboss and form.
• Seamless attachment and bond to mating surface with heat activated or pressure sensitive adhesive.
Now that you are aware of the option to add dimension through coined graphics, is there opportunity to use this for your next design?
Subscribe to Nameplate Blog