Modern Aluminum Nameplate for Commercial Appliance
Commercial appliances are tools of the trade in the restaurant business. The longevity of the product is very important, and so is the branding. Much like the logo on a vehicle, the nameplate on commercial appliances need to weather a variety of elements.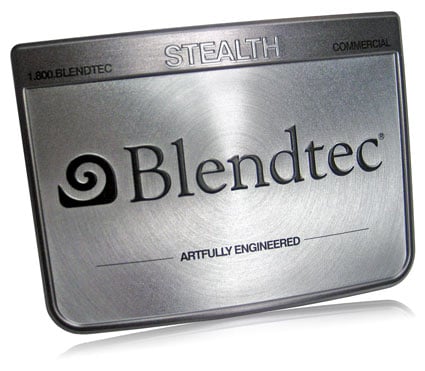 Some of the ingredients for Blendtec's recognizable and unique aluminum nameplate include a variety of processes and color applications.
The processes include:
The nameplate needed to reflect the advanced and modern qualities of the blender. Combining several color processes created a dual tone on the nameplate and allowed the text to stand out.
The color processes include:
Gray tint on center section
Dark gray tint on border
Matte black lettering on emboss and flat
clear protective coating
The combination of mechanical processes and custom color matching creates a unique and recognizable nameplate perfect for impressive kitchen use.
Subscribe to Nameplate Blog