Appliqué Featured in National Campaign


Estée Lauder Product Campaign Features Nothern Engraving Appliqué

In the February edition of 'Guest Blogger' by Estée Lauder, Emily of Cupcakes and Cashmere channels a historical era. In this blog, one of the appliqués created at Northern Engraving is featured.

The blog titled "Sixties Saturation" encompasses the television series Mad Men, which brings back the styles from the nineteen-sixty era. In this period of time, a focus on refined beauty was prevalent. The recreation of this era's style includes lined eyes, pink cheeks and ruby red lips and nails.


This featured part adds a touch of color while keeping the style qualities, including a focus on simple, refined beauty. The chic design is also encompassed in the subtle pale blue appliqué attached to the blush compact.
For the full ad: http://www.esteelauder.com/guestblogger/emilyofcupcakescashmere/week3.tmpl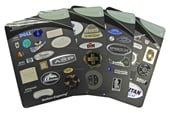 Request a Nameplate Materials and Processes Guide to begin exploring the options available to you in creating your product branding.
Subscribe to Nameplate Blog